Date: 26 May 2017
Kurdistan's leading gas investor is looking to affirm $2 billion in awards against the KRG, potentially paving the way for enforcement action, while lining up $26.5 billion in further claims.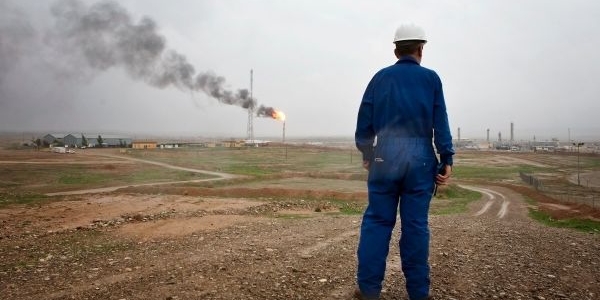 An engineer looks out over gas processing facilities at the Khor Mor field, which is operated by the Emirati companies Crescent Petroleum and Dana Gas, in 2013. (JACOB RUSSELL/Iraq Oil Report/Metrography)
ERBIL - The Kurdistan Regional Government (KRG) is facing the prospect of a $2 billion U.S. court order as its leading gas investor seeks to confirm a series of prior arbitration awards in international jurisdictions.
Pearl Petroleum – together with affiliated UAE energy companies Dana Gas and Crescent Petroleum – applied on May 12 to the U.S. District Court in the District of Columbia for "recognition and enforcement" of awards made in litigation in the London Court of International Arbitration (LCIA) against the KRG.
A senior official familiar with Pearl's legal strategy said, in addition to the D.C. filing, the company is "affirming in multiple jurisdictions."
Documents associated with the U.S. court filing also reveal that Pearl is still seeking another $26.5 billion in damages through a final phase of arbitration, which is expected to begin in September.
The dispute centers on the Khor Mor and Chemchemal gas fields in southeast Kurdistan, which Dana Gas and Crescent Petroleum have been developing since 2007.
Problems started in 2009, when Dana Gas and Crescent brought two other companies, Austria's OMV and Hungary's MOL, into the project. They formed an investment vehicle called Pearl Petroleum, which is 70 percent owned by Dana and Crescent; OMV, MOL, and Germany's RWE each have 10 percent stakes.
The structure of the deal meant KRG Minister of Natural Resources Ashti Hawrami did not have to consent, and the KRG did not receive any bonus from the transaction, as has happened when other IOCs have sold equity interests to new investors.
In response, Hawrami ordered all drilling work to be suspended indefinitely, and armed security moved into the fields to enforce his order.
A newly spudded appraisal well at Chemchemal, CH-3, was shut down. Khor Mor production has been stuck at around 330 million standard cubic feet per day (scf/d) since 2011, well below field potential. Chemchemal has been left unapprised and undeveloped.
The suspension of field development has severely hamstrung Kurdistan's economy, depriving power stations of a potential source of natural gas feedstock and forcing the KRG to import expensive liquid fuel to generate electricity.
It also came at a cost to the Pearl consortium, including Dana Gas, which has had to negotiate an Islamic Sukuk bond with investors due to lack of cash flow, and is in the middle of renegotiating it a second time.
Enforcing awards
The dispute worsened as Hawrami and Dana Gas executives disagreed on the extent of contractual petroleum rights granted to Pearl under the Heads of Agreement (HoA), which is effectively the contract governing the Khor Mor and Chemchemal projects.
Pearl filed to arbitrate against the KRG in October 2013.
In July 2015, the LCIA ruled that the company had "exclusive rights… to develop and produce Petroleum" at Khor Mor and Chemchemal for 25 years. The tribunal said the relevant contractual clause "is as clear and explicit as anyone could wish," according to the text of the award annexed to Pearl's U.S. court application, which was not previously in the public record.
The LCIA also dismissed the KRG's opposition to the assignment of the contract to Pearl and the sales to MOL and OMV.
Since then, the LCIA has awarded Pearl $1.96 billion for unpaid LPG and condensate invoices, then a further set of unpaid invoices totaling $121 million, plus a smaller award and interest. According to Pearl's recent court filing, the KRG has not yet paid any part of these awards.
In a separate set of proceedings, Pearl obtained a British court order against the KRG to enforce $100 million in awards for unpaid dues. According to the documents recently filed in U.S. court, the KRG has paid $68 million so far.
Under the New York Convention, a treaty to which the U.S. and many other countries are signatories, national courts are bound to enforce awards handed down in recognized arbitration centers, giving them the same force as a locally made legal judgments. Once a court affirms an award, a plaintiff can then identify assets in the court's jurisdiction for potential seizure.
There is not yet any indication, however, that Pearl intends to try to seize KRG assets immediately. Instead, Pearl – a consortium of mainly publicly listed energy companies – may be seeking to maintain the booked value of the debt the KRG owes, and incentivize the KRG to come up with a repayment schedule and a broader settlement before the final phase of litigation begins.
An official from the KRG Ministry of Natural Resources (MNR) declined to comment.
The $26 billion question
In the final phase of Pearl's arbitration against the KRG, the LCIA is expected to determine the amount of financial damage that Pearl has suffered, beyond its unpaid invoices, for the thwarted development of Khor Mor and Chemchemal since 2009.
The tribunal already confirmed in a Feb. 13, 2017 decision that the KRG breached the terms of its HoA with Pearl by "wrongfully prevent[ing] the Claimants from carrying out appraisals and such other activities" needed to draw up a field development plan and fully develop Khor Mor and Chemchemal.
The LCIA also threw out all of the KRG's various counterclaims, which mainly centered around alleged promises of rapid construction of an LPG plant at Khor Mor. "All that remains is to quantify Pearl's delayed development claim," the LCIA wrote in February.
To answer that question, the LCIA will essentially assess the financial opportunity that Pearl lost because of the KRG's action, including loss of remuneration fees from local and export gas sales, sales of higher volumes of LPG and condensates, and potential oil development that could have been achieved since 2009.
In its May 12 application to the D.C. court, Pearl says those damages are "estimated to be at least US $26.5 billion."
In a May 11 corporate statement, Dana Gas said the KRG "requested the [Pearl] Consortium to execute appraisal work and submit development plans on the world-class fields of Khor Mor and Chemchemal," potentially stopping the clock on further damages.
In April 2016, possibly with a view to quantifying its claims against the KRG, Pearl hired Gaffney Cline & Associates to estimate reserves and resources at Khor Mor and Chemchemal. It estimated proved plus probable gas reserves of 8.5 trillion scf at Khor Mor and 6.6 trillion scf at Chemchemal, with a further 258 million barrels of condensates at both fields – a significant increase over prior estimates.
Source:
Iraq Oil Report